With its huge tail and iridescent colors, peacocks are among the most fascinating and beautiful creatures on earth.
This unique bird has long fascinated it's human observers and looks like we are still learning. For example…
1 – THEY CREATE INFRASONIC SOUNDS WITH THEIR FEATHERS.
A study recently published found that when a peacock fans it's beautiful feather train for the ladies, its feathers quiver.
This emits a low-frequency sound that the human ear can't hear!
Now they can change the sound by shaking different parts of their feathers, depending on the females are far away, or up close.
2 – ONLY THE MALES ARE ACTUALLY "PEACOCKS."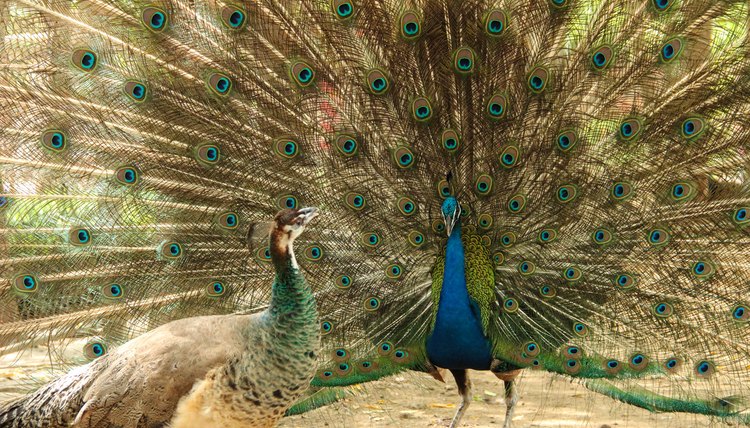 The collective term for these birds is "peafowl." The males are "peacocks" and the females are "peahens." The babies are called "peachicks."
3 – THEY CAN FLY, DESPITE THEIR HUGE FEATHER TRAINS. (SEEN IN BELOW VID).
A peacock's tail feathers can reach up to six feet long and make up about 60 percent of its body length.
Despite these odd proportions, the bird flies just fine, if not particularly far.
4 – THEIR FEATHERS ARE COVERED IN TINY CRYSTAL-LIKE STRUCTURES.
Microscopic 'crystal-like structures' which reflect different wavelengths of light depending on how they're laid out which results in bright fluorescent colors.
Hummingbirds and shimmering butterflies have mastered a similar visual effect on their own wings.
Read: Hummingbirds spectacular version of this (with gallery)
5 – THEY CAN FAKE IT (YES "IT").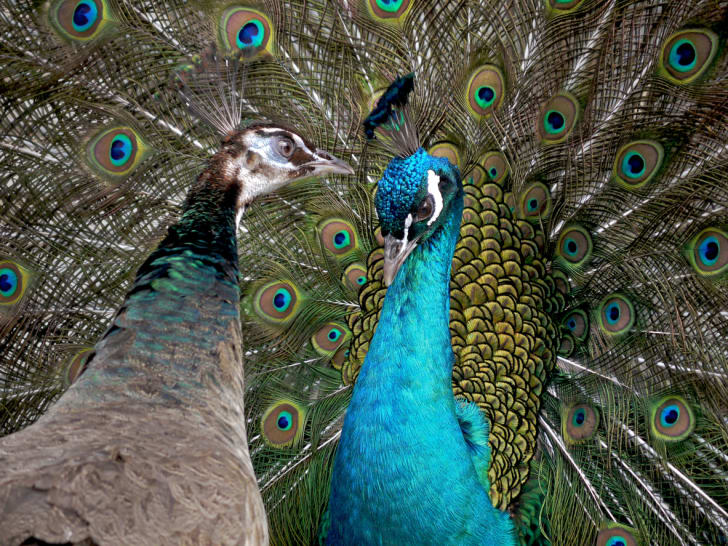 These birds aren't just a treat for the eyes, they are also extremely clever.
When peacocks mate with peahens, they give out a loud "copulatory call,"this is so that the birds can "fake" this call to attract more females.
By pretending they are mating when they are not, the birds could convince females they are more sexually active—and therefore genetically fitter—than their rivals." Ella Davis from BBC said.
In fact, one-third of the calls heard by researchers were fake, and the birds that made them scored the most hookups.