Ocracoke, North Carolina went on alert that a Snowy Owl would return here after it was seen on a nearby island.
The rare magical bird was then seen and photographed the next day a few miles away by Brian Patterson.
Several searches on Ocracoke failed to find one until yesterday.
"My daughter, Elizabeth, and her boyfriend, Walker Garrish, saw it yesterday," said Susan Aiken, a part-time islander.
"We walk our two dogs daily at the same location at the South Point, and Walker noticed something unusual in the dunes he sees everyday," Elizabeth said. "It turned out to be a Snowy Owl."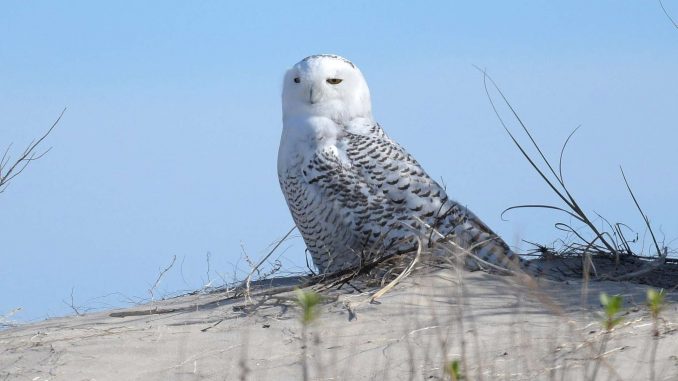 One of the largest and heaviest owls in the world, Snowy Owls have the most northerly breeding and wintering distribution of any of the 230 world-wide owl species.
As their name indicates, adult males are almost pure white; adult females are white with more extensive black markings giving them a salt-and pepper appearance.
Young males resemble adult females but have more spotting on their flight feathers. It takes several years for males to acquire their nearly pure white adult plumage.
Apparently, it is a myth that hunger drives these owls south, and that they are doomed to slowly starve to death in this unfamiliar southern landscape.
It appears it's not hunger that produces these mega-flights, but an absurd abundance of food during the summer breeding season.
High populations of lemmings, voles, ptarmigan and other prey lead to large clutches of owl eggs and an overabundance of fledged owls that move south.